Choose Your City & Destination
Choose Your City & Destination
Click here for Provincial Nominee Programs.
Explore your destination in Canada
Canada is the second largest country in the world with 10 million square kilometres of land mass. Three oceans border country – the Atlantic, the Pacific and theArctic. Due to its size, there are many different geographical areas and regions. Canada is divided into five main regions: the Atlantic Region, Central Canada, thePrairie Provinces, the West Coast and the North. Canada is a confederation of 10 provinces and 3 territories, each with different weather, geography, cultures and job opportunities.  Besides Ottawa, the federal capital city, every province or territory has its own capital city.
Choosing your destination and finding helpful information about the various regions and cities can be very difficult, especially from outside of the country. This information is very important, however, in allowing you to determine which province and city within Canada is most suitable.

Click on the names below to learn more about a Canadian province or territory.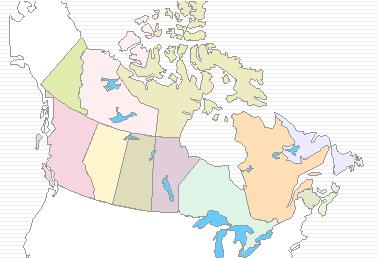 Where would you like to go?
Alberta               British Columbia             Manitoba               Newfoundland and Labrador
New Brunswick        Northwest Territories         Nova Scotia          Nunavut Territories
Ontario                Prince Edward Island             Quebec            Saskatchewan            Yukon
Click here to go back to the top.
ALBERTA
Capital City: Edmonton                   Other major destinations: Calgary, Banff and Jasper
Alberta's economy reflects the diverse nature of its people. Principal industries in Alberta include agriculture and related industries, forestry, telecommunications and oil and gas.
Alberta is the second westernmost province next to British Columbia. It has an area of over 600,000 square kilometres and is home to more than three million people. Alberta is bordered to the east by theprovince of Saskatchewan, to the west by the Rocky Mountains and British Columbia, to the north by theNorthwest Territories and to the south by the state of Montana in the United States.
Located where the Rocky Mountains meet the prairie, Alberta's varied landscape provides Albertans with a quality of life second to none. It's also known for its sunny climate and varied geography.  The breathtaking views, abundant natural resources, and skilled workforce makeAlberta an excellent place to work, live and do business. BanffNational Park wasCanada's first national park.Banff features a striking landscape of beautiful valleys, mountains, glaciers, forests, meadows and rivers.
Alberta's coat of arms is designed to convey the natural diversity of the province, with both the mountains and wheat fields given prominence. It also reflects the abundance of energy, forest and agricultural reserves that contribute to the province's high level of growth and prosperity.
Click here to go back to the top.
BRITISH COLUMBIA
Capital City: Victoria                       Other major destinations:  Vancouver and Whistler
Canada's super, natural province and it's the best of several worlds. Clean fresh air, pristine mountains and oceans surround a multicultural world-class urban Mecca.
British Columbia isCanada's westernmost province and one ofNorth America's most mountainous regions. Because of its coastal location, it is considered a gateway to the Pacific andAsia. BC is bordered by theprovince ofAlberta, theYukon Territory and several American states, includingAlaska.
BC continues to attract Canadians and foreigners alike: 40,000 people settle in the province each year, and its population now exceeds 4.1 million. The thriving, cosmopolitan city ofVancouver is home to nearly two million people, and is the third-largest inCanada. It has the second-largest Chinese community inNorth America, more than 60,000 inhabitants of Indian descent and 24,000 of Japanese descent. The provincial capital ofVictoria is situated on the southern tip of Vancouver Island, just 85 miles northwest ofSeattle,USA. The 312,000 inhabitants of this scenic city enjoy a "sub-Mediterranean" climate with moderate weather year-round. Government and tourism are the two main employers inVictoria.
Mountains such as Whistler-Blackcomb offer excellent skiing and snowboarding. In the interior, fertile valleys are known for producing mouth-watering fruits and vegetables and award-winning wines.  Along the coast are inlets, sounds and islands, and visitors can relax on the beach, surf, hike, and whale watch.
With a spectacular natural landscape and a vibrant and diverse culture, B.C. is one of the world's great year-round tourism destinations – and has now been named the host of the 2010 Olympic and Paralympics Winter Games.
Click here to go back to the top.
MANITOBA
Capital City: Winnipeg                    Other major destinations:  Churchill and Brandon
Manitoba is one of threePrairie Provinces and is located in the centre ofCanada bordered byOntario,Saskatchewan,Nunavut, Hudson Bay and theUnited States. For many years, most Manitobans were of British origin. But changes in migration and immigration patterns have produced a province where no ethnic group is numerically dominant.
Sparkling waters and golden fields of wheat blend into a clear never-ending horizon.  InManitoba, you can relax on a beach by the lake, enjoy the Royal Winnipeg Ballet and Winnipeg Symphony Orchestra, watch thoroughbred horse racing at Assiniboia Downs, fly-fish at a wilderness lodge, or spot polar bears in Churchill during their annual migration. Manitobais also home to theInternationalPeaceGarden- the world's largest garden dedicated to world peace.
About 60 per cent ofManitoba's one million people live in metropolitanWinnipeg, the provincial capital. The second largest city isBrandon, in south-westernManitoba.
Click here to go back to the top.

NEWFOUNDLAND AND LABRADOR
Capital City: St. John's
Newfoundlandfeatures beautiful seascapes, majestic icebergs, quiet coastal villages and a bustling capital city.  Nestled into the northeast corner of North America, facing the North Atlantic isNewfoundland,Canada's most easterly province. This province consists of two distinct geographical entities:NewfoundlandandLabrador. Its historical settlers ranged from the 16th century Basque whalers to the famous Viking warriors. The province's present population of 570,000 is largely descended from settlers from south-westernEnglandand southernIreland, who immigrated toNewfoundlandin the late 1700s and early 1800s.
The pattern of settlement was mainly determined by the fishing industry, and persists to this day. The most heavily populated area is the Avalon Peninsula and north-easternNewfoundland, the traditional base for the fisheries. More than half of the people live in fishing villages along the coastline.St. John's, the historic commercial centre and capital of the island, is the province's largest city, with a population of approximately 172,000.
You can visit a glacier-carved fjord in Gros Morne National Park, admire the oldest surviving lighthouse in Newfoundland on Cape Spear, and pause to reflect at L'Anse aux Meadows, a 1000-year-old Viking settlement.
Click here to go back to the top.

NEW BRUNSWICK
Capital City: Fredericton                Other major destinations: Moncton and Saint-John
New Brunswick is a seaside province in eastern Canada with a diverse and fascinating cultural heritage. It borders Nova Scotia, Québec and the American state ofMaine. It is also bordered on most of three sides by water, including the Gulf of St. Lawrence, the Northumberland Strait, and the Bay of Fundy.
Almost rectangular in shape, it extends about 322 kilometres from north to south, and 242 kilometres from east to west. The eastern coast boasts sandy beaches and warm, salt waters. The Bay of Fundy features the highest and wildest tides in the world – up to 54 feet – which have helped to carve a spectacular coastline. Twice a day, 200 billion tonnes of water enter and leave the Bay, which is equal to the water in all the rivers on the planet.
About 750,000 people live in New Brunswick, 35 per cent of which is French-speaking. This is due largely to the 500,000-strong Acadian community.Acadia was originally a French colony dating back to the 1500s.
In New Brunswick, you can participate in coastal activities such as swimming and whale watching, enjoy extensive trails and campgrounds, watch for wildlife, and take in a range of festivals, galleries, and cultural events.
Click here to go back to the top.
NORTHWEST TERRITORIES
Capital City: Yellowknife
The Northwest Territories is a land of contrasts.  It is 1.17 million square kilometres of mountains, forests and tundra threaded by wild, clean rivers feeding thousands of pristine lakes.  Over 40,000 people live amid this rugged natural beauty.Yellowknife, the capital, has a population of more than 16,000. Mining drives the territory's economy. This is the land where the world's best northern lights dance during the dark winter months and where the sun never sets during the summer.
Northwest Territories are bordered by the Yukon to the west, the prairies to the south, and Canada's newest territory,Nunavut, to the north and east. With the creation of Nunavut on April 1, 1999, the area of Northwest Territories was reduced from close to three and a half million km² to less than two million km².
Starkly beautiful, powerful and immense,Canada's northern world is still wild and pristine. Nature rules here, in a diversity of landscapes ranging from towering mountains to rolling tundra, and from seacoast to boggy lowlands and arboreal forests.
The Northwest Territories has amazing potential, from its land and resources to its people and spirit. Continuing development in non-renewable resources, local businesses, tourism and people's skills and abilities will ensure that the NWT is a prosperous and secure place to live and to raise a family in the years to come.
Click here to go back to the top.
NOVA SCOTIA
Capital City: Halifax
Nova Scotia's 580-kilometre long peninsula is surrounded by four bodies of water: the Atlantic Ocean, the Bay of Fundy, the Northumberland Strait and theGulf of St. Lawrence. Its geographic location, together with large, ice-free, deep-water harbours, has been key factors in the province's economic development.
The province thrives on its harmonious relationship with the sea – its endless coastlines are dotted with rustic fishing villages and lighthouses. With an area of 55,491 square kilometres,Nova Scotia is larger thanDenmark, although somewhat smaller thanScotland, after which it is named. Over 80 per cent ofNova Scotia's population of 943,000 trace their ancestry either wholly or partly to theBritish Isles. Those with French origin rank second: 18 per cent of residents have some French ancestry. The largest concentration of population is found in theHalifax metropolitan area, which has a population of 359,000.
Eleven scenic travel ways wind through Nova Scotia, taking you through breathtaking shores, towering cliffs, historic seaside towns, peaceful beaches, picturesque bays and charming villages. One of the most spectacular, Cabot Trail, is carved into mountainsides looking down onto the Gulf of St. Lawrence. Nova Scotia also offers more than 800 lively festivals and events, kayaking, hiking, whale watching, golfing, and delicious seafood dinners.
Click here to go back to the top.
NUNAVUT
Capital City: Iqaluit
On April 1, 1999,Nunavut becameCanada's newest territory, encompassing the central and eastern Arctic regions – nearly one-fifth ofCanada's land mass. Originally part of theNorthwest Territories, its creation was first proposed in the mid-1970s as part of the Inuit land claim. The establishment ofNunavut, which means "our land" in Inuktitut, represents a landmark event in the history of Inuit andCanada.
Nunavut has a population of about 28,000 – of whom 85 per cent are Inuit and 60 per cent are under the age of 25. Close to one-fifth of the population lives in Iqaluit. There are 28 communities scattered throughNunavut's vast arctic tundra, some of which are hundreds or thousands of years old. Winter is close to nine months long in this region, with snow covering the ground for most of the year. Mining, shrimp and scallop fishing, hunting and trapping, and arts and crafts production are the key industries.
Tourism is also a growing industry, with the chance to experience rich Inuit culture first-hand, and major attractions such asAuyuittuqNational Park. Three new national parks will be created under the terms of theNunavut land claim settlement.
Click here to go back to the top.
ONTARIO
Capital City: Toronto                       Other major destinations:  Toronto, Ottawa and Niagara Falls
Ontario is Canada's second largest province, and home to the world-famous Niagara Falls and the nation's capital -Ottawa. It's a province where people representing 70 international cultures welcome you to some of the biggest, tallest, longest, most unusual, most exciting of everything.  It is bounded by Québec to the east,Manitoba to the west, Hudson Bay and James Bay to the north, and the St. Lawrence River and the Great Lakes to the south.Ontario covers 1.1 million square kilometres and boasts over half a million lakes and 60,000 kilometres of rivers. Overall, it is an area larger than France and Spain combined and has a population of over 12 million people.
Ontario has a diverse and well-balanced economy with high concentrations of manufacturing and financial and business services. There has been a marked shift towards export-oriented, higher value-added industries. The manufacturing sector accounts for 21 per cent of the total provincial output and is supported by a strong and growing service sector. The top four manufacturing industries are transportation equipment, metal products, food processing and electrical and electronic products.Ontario's leading exports are autos and auto parts, machines, electrical products, metals, and plastics.  In the service sector, the fastest growing industries are finance, tourism and culture.
Ontarians, in most years, can expect the province to be one of the fastest-growing regions in the advanced industrial world. Ontario benefits from a growing labour force, which is attracted and sustained by a high quality of life and equipped with the education, skills and initiative needed to compete in today's knowledge-based market place. Centrally located within North America and offering a hospitable business climate, Ontario is a prime location for investment.
Canada has a well-developed financial system with a variety of institutions providing a complete range of financial services.Toronto is an international financial centre and the centre of Canada's capital and money markets. Firms raising short-term funds through loans, trade credit, commercial and financial paper, acceptances or factoring, and companies seeking long-term funds through open market borrowing, new securities issues, loans, or sales financing and leaseback arrangements will find in Toronto all the financial expertise, institutions and capital markets to meet their needs.
Located in the heart of North America,Ontario businesses have easy access to prosperous consumer and industrial markets. The province has an up-to-date, integrated transportation infrastructure, including highways, commuter and urban public transit, province-wide and internationally connected railways, worldwide cargo aviation systems and among the most extensive in-land and international marine shipping facilities anywhere. The Economist Intelligence Unit ranks Canada's transportation infrastructure as #1 relative to other G-7 countries in 2001-2005.
Manufacturers located in Ontario are close to major North American industrial markets. Ontario shares 13 border crossings with the U.S., by road, rail and water.
Ontario's communications networks are efficient, affordable and among the best in world.Ontariofirms are leaders in communications technologies, including telecommunications, broadcasting, satellite and space technologies.
Diversified and secure,Ontario's energy resources constitute an important international advantage for investors.Ontariohas low energy prices compared to most developed nations. Plentiful domestic resources and an efficient energy industry are major factors. Almost all of the energy consumed in Ontariois sourced inCanada.
Ontario welcomes more immigrants than any other Canadian province, and with good reason. It is interesting to note that over 50% of immigrants land in Ontario province every year. With over 11 million people, Ontario is home to more than one-third of Canada's population. It is also Canada's economic giant supporting one of the most advanced and dynamic economies in the world. Ontario has an excellent, highly developed standardized public education system.  Some of the well-known cities in Greater Toronto Area include Scarborough,Mississauga,Brampton,Markham,Oakville, Etobicoke etc.
Click here to go back to the top.
PRINCE EDWARD ISLAND
Capital City: Charlottetown                            Other major destinations: Cavendish
Canada's perfect little island jewel of red soil and green rolling hills is renowned for sweet lobster, stunning beaches, top-rated golf and the world-famous Anne of Green Gables.
Canadian history is alive and celebrated in Charlottetown. The 1864 Charlottetown Conference was the first meeting that eventually led to the proclamation of the Dominion of Canada in 1867. Because of this meeting, the City ofCharlottetownis now known as the "Birthplace of Confederation".PEIis just 280 kilometres long so it's quite possible to explore every nook and cranny. Rich soil and a temperate climate make Prince Edward Island an ideal place for mixed farming. Half of its land is under cultivation, earning it the nickname, "theGardenProvince".
In 1991, the population ofPrince Edward Islandwas 130,000.Charlottetown, with a population of 33,000, is theIsland's only urban centre.Prince Edward Island's population is quite young – about 38 per cent of the people are under 25. On May 31, 1997,Prince Edward Islandcelebrated the official opening of theConfederationBridge. The 12.9-kilometre bridge spans the Northumberland Strait and offers easy access from the mainland to theIslandbeyond ferries and air travel.
Click here to go back to the top.
QUEBEC
Capital City: Québec City               
Other major destinations: Montréal, Québec City, Mont-Tremblant, Gaspé and Charlevoix
Located in the northeast of the North American continent, Canada's largest province covers an area of 1,667,926 km2 (643,819 sq. mi.). Québec bordersOntario on the west andNew Brunswick on the east. It is twice the size ofTexas and seven times the size of theUnited Kingdom. Almost 80 per cent of Québecers live in urban centres located along the banks of the historic and scenicSt. Lawrence River.
Out of a total population of about 7.4 million, more than five million people are of French origin. French is the mother tongue of 82 per cent of Québecers. Since 1970, immigration has been an integral part of this province's cultural and economic wealth. Between 1986 and 1991, 78 per cent of the gains in Québec's population came from people with origins other than French, British or Aboriginal.
Renowned for its rich history and its lively cultural activity,Montreal has a population of 3.4 million. It offers jazz, comedy and film festivals, fashionable boutiques, and world-class dining. Québec City is the province's capital and third largest city. It is the only fortified city in North America. In addition to historic neighborhoods  Québec City features contemporary exhibitions and theatre, and a famous winter carnival.
Québec is part of the league of high-tech industrialized countries. It is noted for aerospace products, pharmaceuticals, information technology, telecommunications, hydroelectricity and metallurgy. Because of this, the quantity of finished products which Québec exports has increased tremendously. Québec bases its growth on the development of high-tech industries and competitive industrial sectors in international markets. In order to further strengthen the industrial base and meet the new challenges resulting from the global market, Québec has adopted an industrial development strategy designed to help businesses increase their medium and long term competitiveness. This is especially so for businesses which have high added value to their products. Like the majority of industrialized countries, Québec has over the past years made a major financial investment in scientific and technological development.
Foreign investment is a major contribution to Québec's economy. It is estimated that 1200 foreign-owned businesses employ some 200,000 Quebecers as well as generating just as many indirect jobs due to sub-contracting.
Click here to go back to the top.
SASKETCHEWAN
Capital City: Regina                   Other major destinations: Saskatoon
Located in the western part of the country,Saskatchewan is bordered byManitoba,Alberta, theNorthwest Territories and theUnited States. The province is almost rectangular in shape and is 651,900 km² in area.Saskatchewan is famous for its prairies and wheat fields.  Its population stands at about one million, or 3.6 per cent ofCanada's population. The people ofSaskatchewan come from a variety of ethnic backgrounds, which is why the provincial motto is "From many peoples, strength". The never-ending stretches of land and vast skies also make this province well-known for its beautiful sunsets.
The largest cities areRegina, with a population of close to 200,000, andSaskatoon, with about 225,000 residents. The province also boasts the largest area of active sand dunes inCanada. The Athabasca Sand Dunes stretch about 100 kilometres, with giant dunes rising as high as 30 metres. From city experiences to rural getaways and outdoor adventures,Saskatchewanoffers a range of enjoyable experiences.
From natural wonders to vibrant arts communities, from local and provincial sports to symphonies and professional theatres, from educational institutions to world-class health care facilities, Saskatchewan provides a quality of life with opportunities as wide open as the sky for people of all ages. Life expectancy, education levels, and air and water quality are all high inSaskatchewan.Saskatchewanoffers a special quality of life that supports the individual, the family and the community.Saskatchewanresidents are known for their friendly, welcoming disposition.Saskatchewanresidents are generous, they lead the nation in volunteer activity with 400,000 volunteers participating in about 17,000 community and regional groups
Click here to go back to the top.
YUKON
Capital City: Whitehorse                 Other major destinations: Dawson Creek
Bordering Alaska, the Yukon Territory is tucked in the northwest corner of Canada. It is fairly large in area (483,450 km²) yet only 29,000 people call it home. Its capital, Whitehorse, is home to 60 per cent of the population. The territory's other major centre, Dawson City, was one of largest Canadian cities west of Winnipeg in the late 1800s during the famous Gold Rush days. It is now an important historical site.
TheYukon got its name from aHudson's Bay trader, who called it "Yu-kun-ah", or "greatest river", referring to the historic river that runs through the territory. In this region, you'll find an abundance of unique wildlife – from the great polar bear to the caribou. You can explore scenic vistas, waterways and trails, and backcountry adventures. You can also enjoy museums and interpretive centres, dining and shopping, and the work ofYukon's visual artists. Like its neighbour, theNorthwest Territories, theYukon is the "land of the midnight sun" during the summer months.
Click here to go back to the top.